31 Days, Grand Journey: New England, Amazon & The Tropics
on Crystal Serenity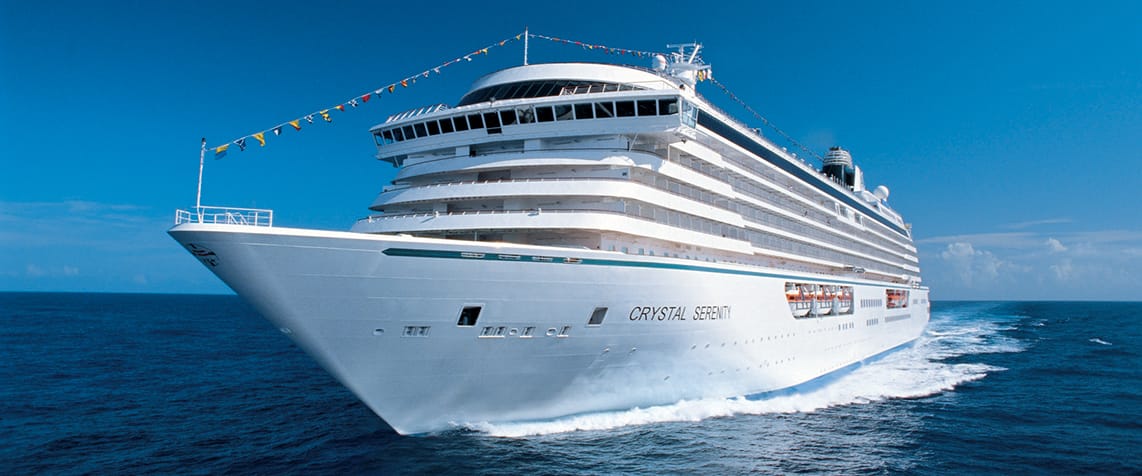 31 Days, Grand Journey: New England, Amazon & The Tropics
Set sail from the Big Apple to discover New England, Bermuda and Barbados. Journey to Brazil to explore the Amazon. Relish the sun-drenched beaches and welcoming charms of the Caribbean before arriving in Miami.

Since the beginning, Crystal has been the standard-bearer for excellence in luxury travel, remaining the undisputed choice among the savviest world travelers. Today, we are redefining it altogether, expanding the possibilities for our guests with choices, experiences and luxuries unmatched in the industry. By Ocean, River, Yacht, Expedition and Air, each Crystal Experience is designed to showcase the world and its wonders in the most remarkable ways. Join us as new adventures unfold...


| Day | Destination | Arrive | Depart |
| --- | --- | --- | --- |
| Tue | New York, US | | 06:00 PM |
| Wed | Newport, US | 07:30 AM | 05:00 PM |
| Thu | Cape Cod/Provincetown, US | 08:00 AM | 06:00 PM |
| Fri | Boston, US | 08:00 AM | 06:00 PM |
| Sat | Bar Harbor, US | 07:00 AM | 06:00 PM |
| Sun | Saint John, New Brunswick, CA | 08:00 AM | 06:00 PM |
| Mon | Cruising the USA's East Coast | | |
| Tue | New York, US | 08:00 AM | 06:00 PM |
| Wed | Cruising The Atlantic Ocean | | |
| Thu | Hamilton, BM | 09:00 AM | 06:00 PM |
| Fri | Cruising The Atlantic Ocean | | |
| Sat | Cruising The Atlantic Ocean | | |
| Sun | Barbados/Bridgetown, BB | 09:00 AM | 06:00 PM |
| Mon | Cruising The Atlantic Ocean | | |
| Tue | Devil's Island, GF | 10:00 AM | 06:00 PM |
| Wed | Cruising The Atlantic Ocean | | |
| Thu | Macapa (Technical Stop Only) | | |
| Fri | Cruising The Amazon River | | |
| Sat | Parintins, BR | 08:00 AM | 05:00 PM |
| Sun | Manaus, BR | 07:00 AM | |
| Mon | Manaus, BR | | 05:00 PM |
| Tue | Boca de Valeria, BR | 10:00 AM | 05:00 PM |
| Wed | Santarém, BR | 08:00 AM | 05:00 PM |
| Thu | Cruising The Amazon River | | |
| Fri | Cruising The Coast Of Brazil | | |
| Sat | Cruising The Coast Of Brazil | | |
| Sun | Grenada/St George's, GD | 08:00 AM | 05:00 PM |
| Mon | Pointe-à-Pitre, GP | 08:00 AM | 05:00 PM |
| Tue | Saint Thomas, VI | 08:00 AM | 05:00 PM |
| Wed | Cruising The Atlantic Ocean | | |
| Thu | Cruising Old Bahama Channel | | |
| Fri | Miami, US | 08:00 AM | |